We launched a new website for Event Marketing Solutions last month and although it doesn't seem too different to the untrained eye we can assure you that it is. Here are 6 key things we have implemented and we are already reaping the benefits from:

We made it future proof, faster and gave it bigger potential to scale
We consulted to take EMS' website out of the template they previously had as this was causing a few issues for both them and us. For instance, some of the changes that were requested by the client would take so much longer to implement due to the nature of the template and its potential to be customised to their needs. Templates have their place on the web but we like to work with websites that we're proud of and that the client can get the maximum return on. This has led to:
Cleaner code
Faster loading speeds
More adaptable to business needs
Easier implementation of fixes
Bigger potential to scale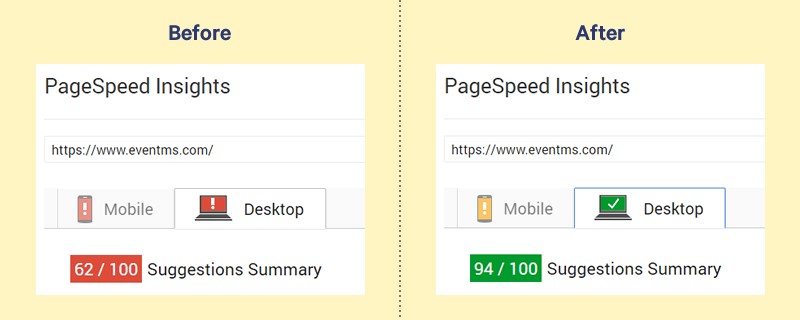 Improved content management experience
We started with a ground up rebuild on Umbraco 7 and migrated content over from the old website.  This gave us lots of opportunities to make the editing experience much easier and more flexible.  The result is reduced dependence on us for day to day improvements / creation of new landing pages, leaving us to focus on high value tasks.
Streamlined and improved navigation and information architecture (IA)
While redeveloping the site and templates we took the opportunity to rationalise the Information Architecture and improve navigation.  In particular, we gave the case studies section more prominence and its own faceted navigation system that provides visitors with an easier way to explore the EMS proposition. 
Improved call to action
By adding on page enquiry forms on "end of funnel pages" we improved chances of conversion.
We used search data and worked with client to attract the right audience
One of the great things about EMS' roadshows are that they solve a plethora of problems for businesses. From being able to provide multi locational internal communications strategies saving business time and travel expenses to providing a function for mobile museums. So, we had to understand their roadshow 'uses' and marry that with search query intent.
Migration to secure with https://
Users are coming to expect a secure and private online experience when browsing the web. And with half of page one results now secure according to Moz it makes sense for businesses and brands to consider moving to https://. Even if Google are currently not openly saying it's a ranking factor. Our advice to clients is to simply consider the sector you're in and the nature of your digital marketing but firmly believe https:// is the future of the web for these reasons:
50% of results on page one of Google are running under HTTPS
Browsers such as Google Chrome have started to mark sites as "not secure", especially prominent when password fields are in usage (i.e. login screen)
Although HTTPS has very minimal performance/speed implications in its current form when HTTP/2 comes into play then it becomes FAST, very fast
More and more websites are adopting SSL by default, predictions are that before long as users start to notice the increase then HTTP (non-SSL) sites will be seen as outdated/not as good (secure) and may be more hesitant to use them – especially where conversions are a goal.
Our Founder and MD Chris Chapman said "It's a difficult conversation to have with a client when you explain to move forwards you essentially need to take a step back but the team at EMS took on our recommendations and we worked with them on a phased approach to deliver improvements."
EMS's Business Development Director, Nic Whelan stated "It's refreshing to have an agency who are transparent in their work and consult with our best interest at heart. Agency97 have made it much simpler to make changes to our website so we can focus on driving our brand forward"