Contact Us
Whether you want to discuss an idea, have a specific project in mind or maybe you'd like to work for us – call or send a message and we'll get back to you.
Write to us
Agency97 Limited, Talbot House, Albion Street, Chester, CH1 1RQ
Opening Hours
Monday - Friday 9am - 5pm
Careers
We are always interested in talking to talented individuals. Our current vacancies are below but if you feel you could add something to our team please feel free to email careers@agency97.com and tell us why.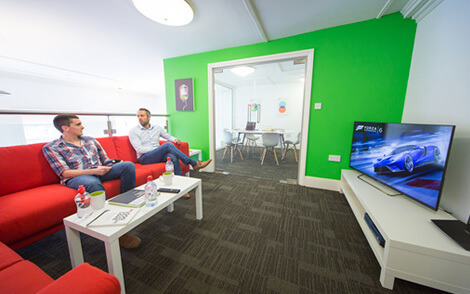 Please note: We do not accept unsolicited candidate submissions sent to Agency97 by recruitment agencies/companies by any means. If candidate details are submitted without prior consent then the sender accepts that Agency97 shall have the absolute right to approach and engage these candidates without obligation to third party terms (such as, but not limited to, agency fees and charges), even if those terms and conditions form a part of the details submitted.
Job Title: Full Stack Umbraco Developer, .NET, Chester, North West
Location: Chester City Centre
Benefits: 25 Days Holiday + Bank Hols, Pension, Best tools to do job (e.g. MacBook Pro or equivalent), Herman Miller Chair, Training / conferences + more
Hours: 35 hours per week, 9am to 5pm (1 hour for lunch), Potential flexi start (8am, 9am or 10am)
Salary: Competitive based on experience
Agency97 require talented, enthusiastic web developers to join our expanding team and help us deliver our vision. Our success as a digital agency has been built through cutting down the traditional agency layers and directly aligning our experts with our client's challenges. We get to know our clients, we become extensions of their businesses, and we become trusted advisors and mentors.
You will based in our fantastic office space located in the heart of Chester City with all its wonderful amenities a few paces away. Be it a lunch time stroll down the river Dee, exploring Roman ruins, hitting the shops or savouring a coffee.
You will be working on a number of diverse projects for sectors including Travel, Healthcare, Events, Not for profit, Recruitment, Technology, Legal, Education and Energy.
Working closely with clients, team members & other stakeholders you will be expected to manage the build process from start to completion ensuring that projects are completed to agreed timelines.
Primarily you will be developing websites using Umbraco V7 along with creating new platforms using ASP.net.
Together with new build projects the role will include supporting, maintaining and enhancing existing websites / platforms proactively helping our client partners achieve success.
Required Skills / Attributes
Umbraco CMS experience
Frontend development (HTML, CSS, Bootstrap, SASS, JavaScript)
net MVC C#
MS SQL Server / Entity Framework
Understanding of source control (Git / BitBucket)
Integrating with web services / APIs
Excellent communication skills
Ability to work well under pressure
Positive team player
Desirable
Scoping / requirements gathering
Project management skills
Active member of the Umbraco community
Other CMS platform experience – Sitecore, Kentico, EPI Server, WordPress etc.
E-Commerce experience – NopCommerce, UCommerce, Merchello etc.
Angular
Windows Server Administration (IIS, SQL Server)
DevOps
If you aren't sure this role is quite "you" but you feel you have something to offer we still welcome applications / covering letters for us to consider.
Job Type: Full-time
Salary: £25,000.00 to £40,000.00 /year
Location
Chester
Perks
Competitive Salary
Chester City Centre Office
Training and Conferences
25 days holiday + bank hols
MacBook Pro or Equivalent
Flexi Start
Herman Miller Chair
Pension
Apply Now
A fantastic opportunity has arisen at our Agency due to our growth in our digital marketing department. We're looking for an enthusiastic individual who has a passion for online marketing and wants to grow their knowledge and career through working with some great clients across a number of different niches.
Core responsibilities:
Copywriting                     
Creation of content for agency's own website and PR. This includes leaning on the current team for expertise and trends, as well as conveying and promoting the agency's culture. This will also involve learning SEO best practice and being able to create on page copy that is on brand and is beneficial for both users and search engines alike.
PR and outreach
Building relationships with news outlets and online publications to get coverage for both the agency and clients alike.
Creative ideas
Provide creative ideas to take to clients with a view to amplify their brand.
Ad copy for PPC campaigns
Creating compelling ad copy within the confinements of Adwords for testing purposes.
Reporting
Being able to use Google analytics and Adwords to create reports for clients each month. Feeding back to the Head of Digital Marketing about any potential areas of opportunities and growth.
Social Media Strategy
Take over the agency content strategy across 3 social platforms. This will centre around taking the agency's offering and strategy then aligning messaging to this.
Client relationship handling
Will be able to handle clients calls and needs in an effective polite manner displaying the agency's core focus of excellent customer service.
Key skills
Quick learner who wants a long-term career in digital marketing
BA degree in English, Journalism, Business, Media or a similar subject (or relevant experience)
Strong copywriting and communication skills who can adapt to a range of clients' niche's and tone of voice
Excellent analytical and reporting skills
Strong team-player
Strong organisation skills
Previous blogging and online copywriting experience preferable
Location
Chester
Perks
25 Holidays plus bank holidays
Staff outings after successful project launches
Budget for conference attendance
Apply Now