Search console data has been plugged into analytics so this helps us keep a lot of data in one place. This is useful in allowing us to apply conversion rates of goals all the way through from impressions with ease. Here are some ways you can use this data to improve your online marketing:
First navigate to search console within your analytics on the left-hand side within Google Analytics.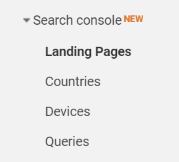 Go to 'Landing Pages' and set your date range to the last month (you can go further back but data may be skewed due to improvement of positions or declines).
Improve Click Through Rate Through Meta Data
It is widely theorised that click through rate to your results and clickstreams are used to influence rankings. Whether this is true or not, you can still look to improve this metric to optimise your marketing efforts.
Much like PPC, this could be an easy area to test. Identify your low click through rates with significant impressions. The numbers you filter this by should be relative to your website. But here is an example: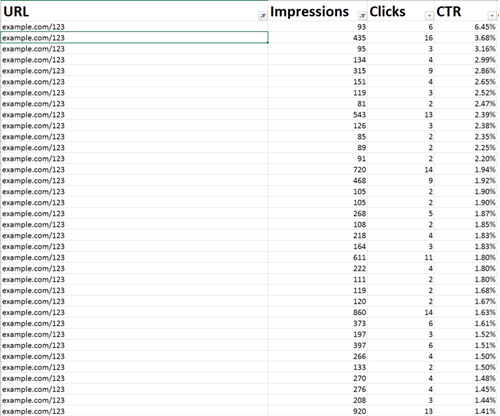 If you need help identifying the sweet spot of data to optimise, contact us.
Run these URLs through either Screaming frog or SEOtools to obtain meta data quickly.
    1. Improve Meta Titles for Click Through
Take a group of pages and assess Meta titles and improve them. Here are some basics to cover off:
Use keyword research to inform your text.
Include keywords that are relevant and insert them at the start of your Meta title.
Brand is important. If you have advertised and marketed well hopefully users would have heard of you and have some sort of affinity with you. You can insert this at the end of the title.
Keep within character limits. Keep titles under 55 characters to be on the safe side.
     2. Improve Meta Descriptions for Click Through
Take your test data set and analyse the meta descriptions. Even though it's stated that keywords within descriptions do not have an influence, we would beg to differ:
The fact that keywords within the description are highlighted in bold from the search query can help with relevance.
Increased click through rates are a plus to any marketing and it makes sense as previously mentioned for Google to be monitoring click streams with their masses of data.
Here are some tips for writing effective ones which will hopefully improve your traffic:
Length should be no more than 155 characters including spaces. But things like published dates can affect these.
Include call to actions to direct users and help make decisions for them.
Use unique selling points to convince.
We would suggest testing the sample group for at least a month. Again this is search volume dependent and you may want to test for longer.
Pssst…further advice:
Overlay your pages with search query rankings. If these are volatile it could skew your testing.
Focus on service and target pages at first – you are much more likely to have a better idea of the terms you are ranking for and these changes, if effective, will make a bigger difference to your bottom of the funnel traffic and conversions.
In part 2 of this we will discuss reducing bounce rate and capturing customers.
Let us know how you get on!