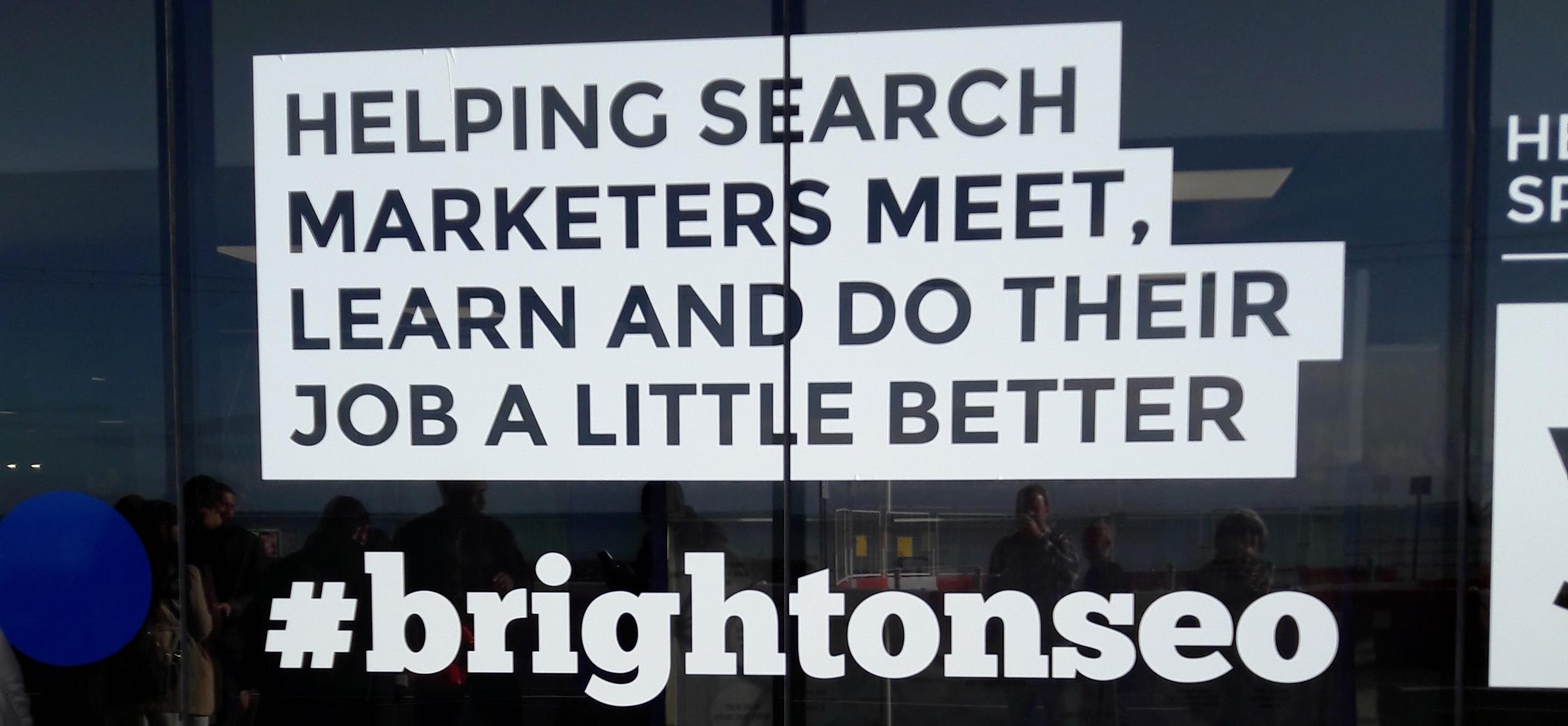 We took the long journey down to Brighton for the world's most popular search conference BrightonSEO. It's a truly amazing event where 4000 people from 40 different countries attended and here are our own key takeaways.
Mike King - Software Testing for SEO
https://www.slideshare.net/ipullrank/software-testing-for-seo/
First of all, we attended auditorium 2 where we saw Mike King talk about some processes and software he has been using to ensure that development changes that could cause issues with SEO are negated.
The main theme of this talk was that by introducing SEO into test driven deployment you could catch issues before they are deployed. For instance, a unit test could be developed to ensure that certain pages within your site do not have a meta noindex tag present when launching. If the new code did feature this element it would result in a test failure. 
Barry Adams - Technical SEO in the Real World 
https://www.slideshare.net/Badams/technical-seo-in-the-real-world
Second to the stage was Barry Adams who introduced himself by warning the audience that his talk will contain swearing. And highlighting that developers sometimes call him names...
He gave some excellent pointers on some problems he had encountered when development changes had led to loss of real estate in the SERPs.
JavaScript Above Schema
He discussed a case of where a client had introduced JavaScript above schema during a site transition and lost their review stars. He tested moving it below the schema markup and hey presto the review stars returned. Surmising that JavaScript above schema markup may break Google's processing of the structured data.
iframes May Indicate Body of Page Has Begun to Search Engines
Secondly, he joked about nobody gets hreflang tags right the first time and showed another example of where JavaScript that was inserting an iframe above the hreflang tags which again caused an issue as he discovered that maybe because an iframe is always expected to be in the body of the page, Google assumed the head had ended and hreflang tags don't work in the body.
Speed
He championed speed claiming that not many people would deem their websites to be fast. Particularly large-scale sites who contain a number of scripts but he emphasised that speed was key in simple terms by stating the faster the website the more pages that get crawled.
Internal redirects
Another bit tip he gave was that 'redirects bleed link value' and by fixing these it can help improve traffic.
 He summarised with a few key points:
The root cause of a technical SEO issue isn't always obvious
It helps to understand how search engines work
It helps to understand how the web works
And finally, 'JavaScript is evil'
JP Sherman - 
Delivering Better Onsite Search Results - Brighton SEO Sep 2018
https://www.slideshare.net/JohnPaulSherman/delivering-better-onsite-search-results-brighton-seo-sep-2018
Last in the session was JP Sherman who starting out by stating some eye-opening stats regarding site search:
Less than 18% of orgs dedicate resources to on site search
55% of users will abandon your site if they cannot find what they are looking for immediately.
We personally loved the idea of basically turning your own site search into a search engine. Here are the highlights:
Implementing Autosuggest
He showed examples where autosuggest helped increase click through on site from 42% to 57% and resulted in a conversion rate increase from 3.9% to 5.1%.
Geo Context
Where a user is searching from can influence the intent behind their search and one example he gave is a search of 'bike tyres'. If a user was searching from Santa Monica the likelihood is that they are looking for road bike tyres whereas a user from Colorado Springs would be more likely to search for Mountain bike tyres. This led to conversions going up between 3 and 4%
Introduction of Knowledge Graphs with CTAs
On high volume/ ow intent keywords where it is harder to establish what a user wants, much like Google there is an opportunity to implement knowledge graph panels which may drive the user towards informational or even conversion led pages.
Some key takeaways to improve onsite search were
Change the snippet
Change the SERP design
Add contextualisation
Measure
Mobile is unique
An overarching theme of this presentation was introducing a mindset of 'respect your users time'
We would suggest checking out these slides for more inspiration if your site search function is used frequently.
The second session of the day we attended meeting room 1 for something a little different, the topic being personal development.
Arianne Donoghue - Why Failure Should Be An Option For All Of Us'
 https://www.slideshare.net/ariannedonoghue/why-failure-should-be-an-option-for-all-of-us-arianne-donoghue-brightonseo-september-2018  
A talk full of her personal failures which we thought was honest, transparent and brave to address in front of an audience.
Some key takeaways were:
More men called Dave in FTSE 100 that are CEO vs female CEOs (a shocking statistic)
Own differences – diverse teams work better
And an action plan for success:
Plan
Know your s**t
Don't be scared
Be positive
Keep a log
Be bold
Be visible
Steve Hammer - Keeping Your Wits While Working in Digital Marketing
He spoke about the personal issues he encountered after achieving success with his agency.
Again, a brave and honest talk on his own battles:
Stating that a lot of people have Impostor syndrome such as Neil Armstrong, Einstein.
The risk of depression is increased by spending more than an hour on social media by around 2.7x .
The risk of depression has a 2.5x increased chance if you are an entrepreneur.
The above 2 stats combined equate to a significantly higher risk of depression if you are an entrepreneur who works in digital.
Untreated depression is 10% risk of suicide.
10th leading cause in US.
Mid 90's suicide rates correlate with rise of internet.
And it's important to remember everything on social media is almost always marketing.
Steve has also launched a space for people to share their stories and seek support which we think it is a great idea. It's called 'Always tomorrow' mental health support for SEM and SEO pros and you can find it here https://alwaystomorrow.org/
Exhibitors - SEOMonitor
After lunch as we were on our way to auditorium 1, we bumped into one of the exhibitors - SEOMonitor who had some exciting news with the launch of their new app 'signals - a data scientist disguised as an app'. Signals is an interesting concept for SEOs because of its format being available in an app, anyway they gave us a SmartScreen to have a try and we have to say it is really quite impressive…
Keyword monitoring tools can be quite busy to say the least as they have so many useful features. What we like about this app is it lifts the useful information to a dashboard screen. So, you know what is going on with your clients on the go, can give out success stories and use to start conversations with client/potential prospects. See screenshot below: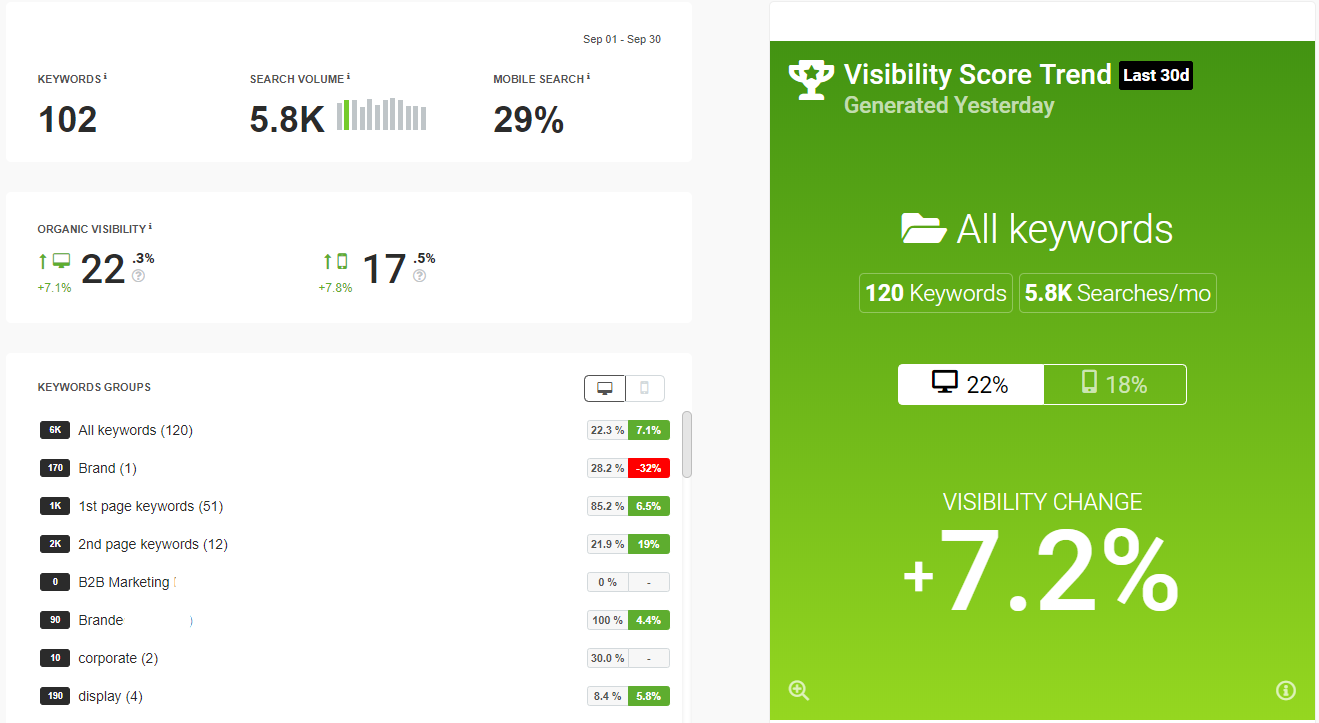 Check it out here: https://www.seomonitor.com/signals/
Hannah Thorpe - SEO without Traffic
Hannah Thorpe (who is an excellent public speaker) took to the main stage to discuss SEO without traffic https://www.slideshare.net/Foundonline/brighton-seo-seowithouttraffic
She touched on some useful topics across the landscape of search, kicking off by stating that she thinks 'Brand is a ranking factor'
And then covered the following:
SEO is in its infancy – Google is still only 19 years old.
34% of searches result in no click from the SERP
There is no such thing as a truly accurate search volume.
Instead, focus on what your customers are doing and the information they need.
Remember that keywords don't always equal rankings, rankings do not always equal traffic and traffic does not always equal conversions
Structure your content into Point – expanded examples – comment
Use structured data
Deserve to rank
Measure
Isobel Smith - Practical Insights Into Winning Epic Featured Snippets
https://www.slideshare.net/IsobelSmith10/brightonseo-2018-practical-insights-into-winning-epic-featured-snippets
Izzi's presentation brought even more science on how to appear in featured snippets. She showcased a number of examples where she had chased and optimised for ranking '0' and the benefits that it could provide for brands.
This included:
More traffic, conversions, brand awareness and triggering through voice search.
Identifying the right queries through Google search console in analytics.
Assessing intent highlighting that informational/transactional queries are 'snippet' gold as they are more likely to drive business.
Then she went onto give very granular examples of optimisation within types of answers and how you can provide the perfect content on your site for position 0:
Paragraphed answer sweet spot is 40-60 words these usually try to answer questions.
Prepositions & comparisons can be optimised with lists which feature clear headers.
Comparisons and data can be best formatted in simple HTML tables.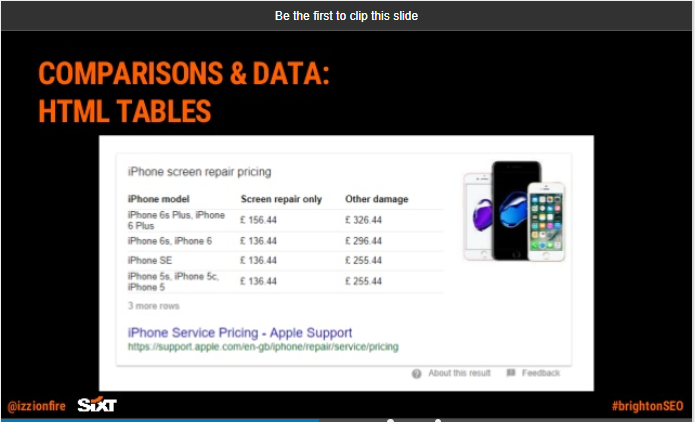 Mark up your content with Schema.
Finding out which brands rank 2nd and 3rd and so on for featured snippets by applying negative search operator.
Patrick Reinhart - Indexation, Cannibalisation, Experimentation
Patrick gave some great insight into the work he has been doing and real-life examples of technical fixes and the results he had achieved through them.
The first example included a client who had an index bloat problem which he had fixed resulting in traffic quadrupling.
The second was a big cannibalisation issue on products which led to a brand competing against themselves all too often in the SERPs.
Patrick also highlighted that sometimes as a consultant/SEO you can't always implement the absolute best fix due to restrictions but you can still get round this via other solutions.
Dom Hodgson - S**t, We've Launched. Now What Do I Do?
We had to mention this talk as it was simply hilarious. If Dom ever wanted a change of career we are sure he could go into stand up.
He built the littlewardenapp on a cruise ship? If we remember correctly. And didn't have a solid/no business plan in place. So, when he finally got around to marketing the product he set about trying to get value through Fiverr. The trials and tribulations of this can be found on his blog and are well worth a read. We've just read on Twitter that he will not be publishing slides but if the talk is ever videoed we suggest watching it. N.B. The talk did actually give a serious insight into his business identifying 3 key principles that him and his team focus on.
Rand Fishkin - Keynote Speaker
As engaging as ever, Rand firstly congratulated Kelvin on what he had achieved with the event stating 'he should be really proud of himself' a sentiment we echo.
His talk was laced with data on the current landscape of search and clicks and went as far as challenging Google to say we might be seeing the end game of Google creeping in.
Overall takeaways from the talk were:
There is no better time to invest in SEO and get ahead of your competitors in the channel.
Even if Google reduced click through to websites to the levels of 2 years ago organic is still probably the best channel for acquisition.
See below for the list of slides from all the talks that have published:
The Morning
Content Marketing
Onsite Tech SEO
Site Speed
Customer Experience
Enterprise
Fundamentals
International Marketing
Content Strategy
TechnicalSEO
SEO Tools
Mobile & AMP
Project Management
Personal Development
European Market
Early Afternoon Sessions
SERPS
Link Building
Voice Search
Crawl Management
Ecommerce PPC
Javascript & SEO
Martin Splitt – Building search-friendly web apps with JavaScript
Jamie Alberico – SEO for AngularJS
International Expansion
Mid-Afternoon Sessions
Ranking Factors
Reporting
Small Budget
Joe Doveton – Small is Beautiful: Site Optimisation for SMBs
Izabela Wisniewska – 13 ways to build links without big budgets
Dom Hodgson – Shit, we've launched. Now what do I do?
Ecommerce Trends
Paid Social
Migrations
James Brown – Six Site Migration Fails & How To Avoid Them
Esteve Castells – Learnings of Migrating 100,000 Subdomains to Subfolders
Dan Patmore – Navigating the pitfalls of website migration
Key Note Speaker
Rand Fishkin The Future of SEO is on The SERP