There are hundreds, if not thousands, of plugins and extensions aimed at digital marketers. With so much out there, which extensions are actually worth adding to your browser?

We've compiled a list of our favourites; the crème de la crème of time-saving Chrome extensions for marketers. Below are the apps we use most regularly, and that we feel truly do save us time, energy and a great deal of faff.
Note: we tried our best to limit this list to those that are free to use, but extensions marked * are most effective when used with a paid-for account.
Productivity
All of these are time savers really but we single out Lastpass as it's just great for internal password management.
As a digital marketer, you are always in and out of tools, CMS's, Gmails etc. So a password manager could save you hours over the year. Last pass is a great choice because it manages passwords from a centralised admin so only one person could effectively know the password from a company or team. Only you can access your information in your encrypted vault - not even Last Pass can. All of your data is sealed with AES-256 bit encryption, salted hashing, and PBKDF2 SHA-256.
However it's important to remember to stay safe on the web and Last Pass did suffer a security breach in 2016. It was not a serious one and all the hackers got away with was some email addresses and password reminders. Hackers didn't manage to get away with any encrypted passwords. Out of all the password management systems out there we would say since the breach Last Pass has improved even more and is one of the safest and best on the market today.
Conversion and Tracking
This nifty plugin enables analysis of top level Google analytics stats and gives you insights into customer interaction, including in-page click analysis. With In Page Analytics you're able to easily optimise your site for a better user experience and an increased conversion rate.
The clue's in the name with this one; Squint is the easiest way to carry out a squint test on your page, ensuring the primary elements are most prominent. As straight forward as it sounds, Squint simply blurs out the page so you can properly gauge content proximity and focus.
Predominantly, this plugin is great for blocking trackers; protecting your privacy and speeding things up a bit. However, Ghostery is also a good tool for competitor research, letting you see what competitors are using and how they're implementing their marketing campaigns.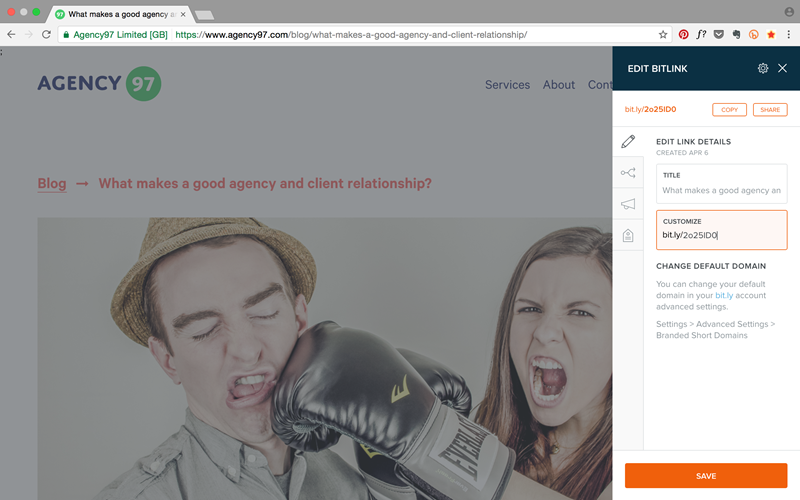 We've all used Bitly to shorten links, but did you know there's a Chrome extension, too? Bit.ly allows you to easily customise and optimise your links with one click, sharing content directly from your browser to your fully integrated account. Use the app to organise your Bitlinks with tags and measure real-time data to analyse your social strategy.
Scraping Data and Information
Formerly known as 'scrape similar', Web Scraper allows you to scrape a page, or multiple pages, for similar elements and extract data accordingly, all using its point and click interface. Not only is this a massive time saver, the extension also enables you to create sitemaps to navigate a site how you want and collect the data you're after.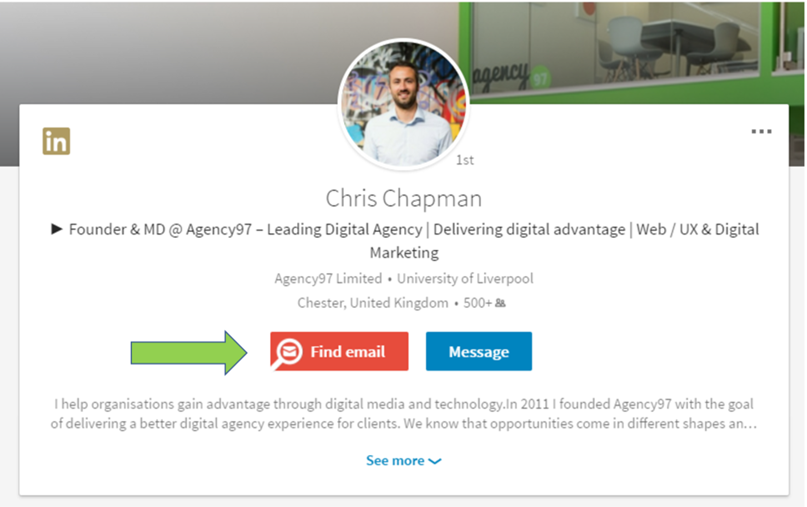 Another email scraper, this time specifically for LinkedIn, Skrapp helps you build a targeted leads directory by gathering prospects data including their name, email, company and title, as well as the link to their LinkedIn profile.
The easiest way to scrape email addresses from a website or LinkedIn profile, simply add the E-mail Hunter extension to your browser and click. Job done. You can save your leads and export them to CSV, too, or synchronise them automatically with apps like Hubspot, Salesforce or Pipedrive.
Technical
Google page speed is a good barometer of your sites ability to serve content efficiently. If you're an agency, or have multiple websites to look after, this tool is good for getting a quick overview of page load time in the toolbar.
Are your redirects SEO-friendly or are they actually harming your website? The Link Redirect Trace extension allows you to carry out comprehensive, all-in-one redirect path analysis, providing you with the most in-depth data available. It's the ideal extension for SEO analysis, both off page and on page, as well as for competitor analysis, checking your affiliate links, post-redesign link checks and more.
This fantastic tool outlines nofollow links marked with rel='nofollow' as well as any links on a page with a nofollow robots meta tag. No Follow also features website filtering and lets you customise your own CSS outline styles.
Sometimes you want to temporarily disable Javascript functionality in your browser—particularly to prevent malicious scripts or unwanted pop-ups—and this extension does exactly that. How does it help you as a digital marketer? It shows you how your site works without javascript. Even though Google makes claims about being able to read Java script effectively (and it will get there eventually) We still suggest you pay attention to what content is served without it.
Since Google's mobile-friendliness update, ensuring your site is optimised for mobile is more important than ever. Mobile Friendly Checker not only tells you if a page passes Google's own mobile-friendly test, but also gives you an insight into how well it passes, with a breakdown of each mobile rule.
Content and Search Terms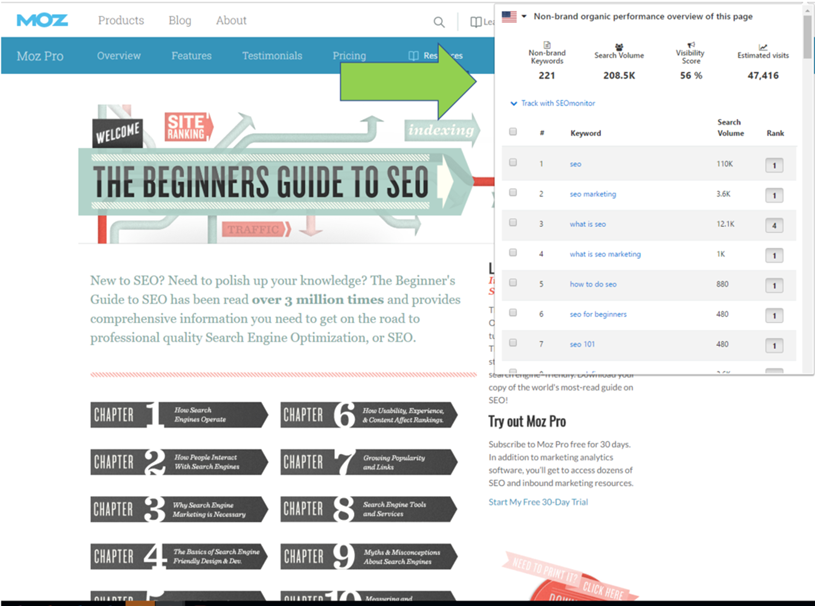 If you can get hold of a paid SEOMonitor subscription, it's worth installing the plugin as well. The SEOMonitor extension shows what keywords a given webpage is ranking for and at what positions, as well as their search volumes.
Scout is basically a real-time market intelligence tool that allows you to analyse your competitor's keyword usage. Check the summary tab for a word cloud-style overview (perfect for the more visual amongst us), consult the Insights tab for its relevance indicator, and get an insight into search volumes using the Keywords tab. Scout ensures your keyword game is more effective (and less a stab in the dark).
Although the API runs out on this often it's still a handy tool for SEO and PPC campaigns, Quick Suggest gives you an A-Z list of keyword suggestions based on the keyword you enter. The extension also includes reverse suggest mode and all suggestions can be conveniently exported to CSV.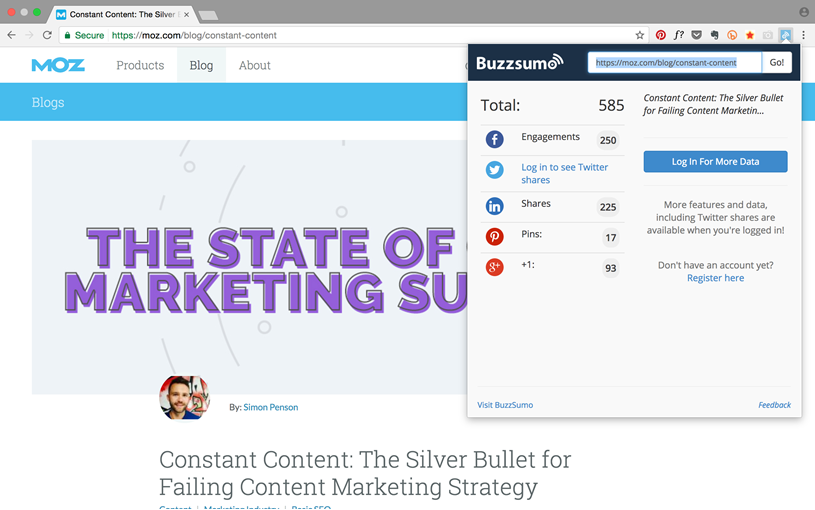 You've probably used BuzzSumo before, but have you tried out the Chrome extension yet? No need to open BuzzSumo, simply select the tool from your bookmarks bar for social share counts and analyse content format stats for the page you're viewing. Another time-saver we're using regularly.
Off Page
Majestic is one of the leading tools for backlink analysis, but the whole process is made so much simpler using the plugin. Get an instant link count and overview of the strength of any page, including the 10 strongest backlinks, Trust Flow and Citation Flow, straight into your browser while you browse the web. Need a more in depth analysis? No problem. Simply follow the link underneath the basic overview for further Link Profile Charts, Link counts at Root, Subdomain and URL level and metric scores.
Manually trawling through your site for broken links is a thing of the past. Check My Links crawls your webpage to check they're all working alright, showing any broken ones and their appropriate HTTP response codes in your Console Log. The perfect extension when dealing with link-heavy webpages. And when looking to broken link build.
Quite simply, this Google extension is the fastest, simplest way to initiate a reverse image search the Google database. No more copying URLs or manually uploading the images; right-clicking any image using this extension allows you to send it straight through Google Image Search. Everyone loves a shortcut!
Whether you're an individual wanting to boost your productivity, or part of an agency looking for a way to ensure you're spending the maximum possible time on the stuff that matters, these brilliant Chrome extensions should do the trick. Even just one or two should help speed things up a bit!
We'd also love to hear from you if you have any more chrome plugins you couldnt live without!