We've been busy over the past few months with a number of client wins. Here are some from the digital marketing department over the past 3 months:

Town and Country Property Auctions
We teamed up with Town and Country Property Auctions officially in the summer to help them bring down their digital spend whilst improving their results. We are measuring success on 4 key areas:
Acquisition of new properties for auctions
Increase pre-auction bidding
Increase footfall to auctions
Increase mailing list for property alerts
We're pretty amazed by the results we have driven in such a short time frame and there will be a case study to come on this soon.
A sneak peek on results though…
Goal conversion rate improved 63.69%
Goal completions up 17.92%
Click through rate has doubled in the process: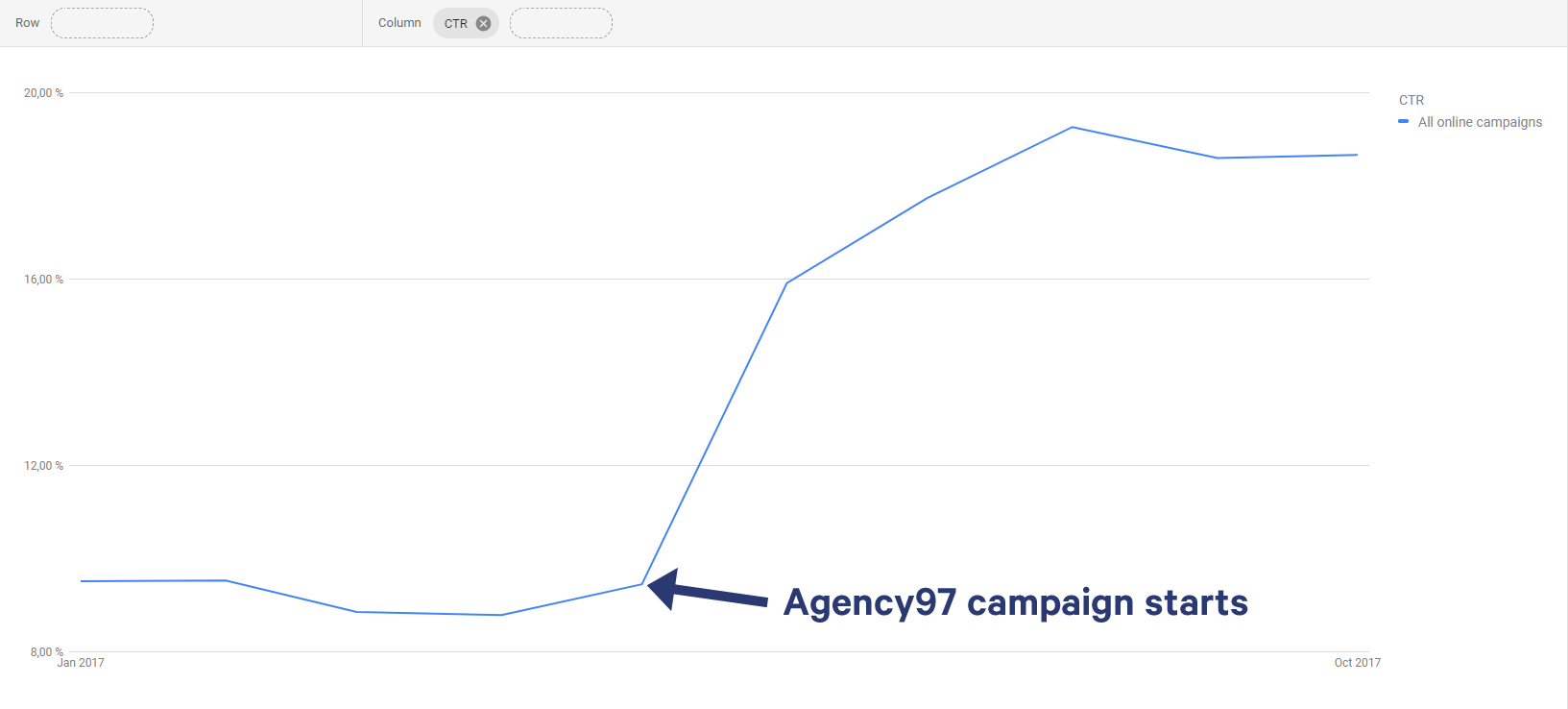 Owner, Geoff Taylor said "Once I spoke to the guys I felt completely confident in using Agency97. I've never seen us so busy. They've already saved me close to £5000 in marketing spend whilst improving results and that's inclusive of their management fees"
Future Recruitment
Last month we were hired to transform Future Recruitment's digital marketing. We have implemented tracking across their key goals on site so that we can effectively measure progress.
We have been tasked with increasing the number of CVs, job applications and employer vacancies Future recruitment receive through predominantly 2 main channels (organic and PPC).
CBHomes
We've also been hired to consult CBhomes through a new build process and fire up a paid campaign to research, optimise and drive leads for them in the near future.
We are advising on information architecture, making sure the website is friendly for search engines and this has all been informed by an in-depth market analysis.
Saul Malpass, Head of Digital Marketing said on the wins "Each business represents a different challenge but our principles remain the same for each of these campaigns. We work with the client to understand what is important to them and reverse engineer campaigns from there."